FlinkISO document management software allows you to add various standards, clauses & document categories. Once the standards, clauses & document categories are added, you can start creating your quality management documents from within the system.
FlinkISO™ 2.x is now integrated with ONLYOFFICE™ Community Editors, which provides most of the features of native Office softwares like Microsoft Office, Libre Office, Open Office, Numbers, Pages etc, without requiring to install anything on your machine, and you can still enjoy all the features of these applications from within the system.
Key Features
Integrated with ONLYOFFICE Doc Editors

No Need to purchase multiple software licenses

Create Documents/ Spreadsheets within the system

Document Version Control

Collaborate, Share, Live Chat while creating & editing documents

Securely Store & Access all your documents on a Centralized Location

Strong control over who can View/ Edit these documents

Export Document/ Spreadsheet as PDF with Password & Digital Signatures
Integrated with ONLYOFFICE
Document Management Software Features
Create Documents within the qms software or upload any document to the system.
Edit documents within the qms software. Multiple users can edit a single document in collaboration.
Version control each document with unique number. Auto archive old versions.
Search documents by number, category, prepared/ approved by, issued by, dates & more.
Securely store all your documents. Access is restricted to authorised users only.
Get read receipts for each document shared with the users.
Link multiple documents with each other and access them together.
Upload additional supporting documents.
Document Security
Users do not have direct access to doc, docx, xls, xlsx files. They can only open these files via ONLYOFFICE Editors with secure connection. To download these QMS documents, they must use download PDF option. Each downloaded PDF will have password protection, along with the details of user who had downloaded the file, issue number and timestamps. Entire download history is recorded and is visible and traceable on each QMS Document's View Page.
Tracking and Identification
Under FlinkISO QMS software, each document would contain following meta details for tracking & identification:
Name
Document Number
Standard
Category
Clause
Date Created
Issue Number
Revision
Document Status
Prepared, Issued & Approved by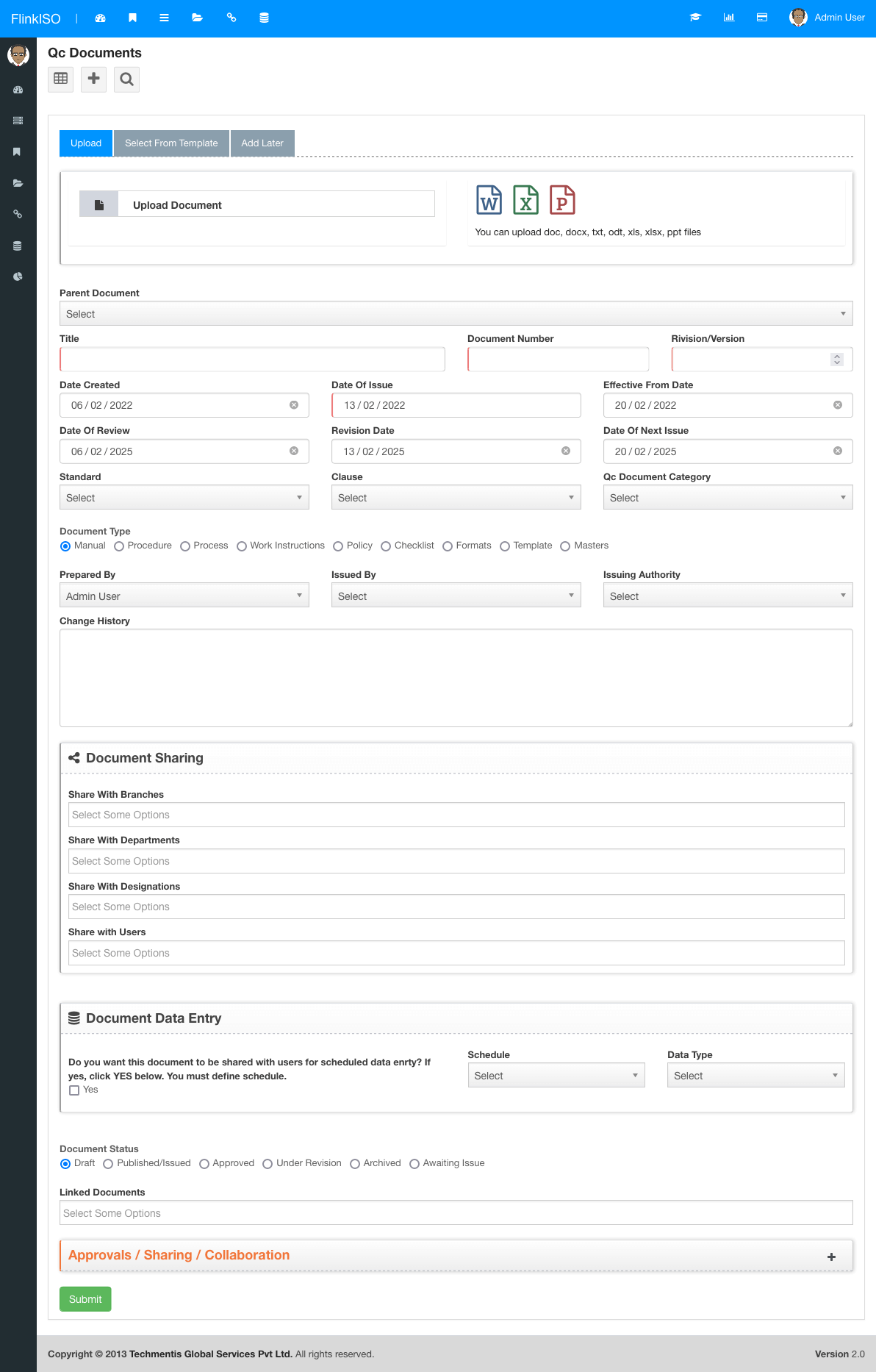 Distribution
Each document created, can be shared with one or more users. Only users with access will be able to view/ edit the document.
User Access Controls
From this section, entire user access control for the Document Management Software is defined as well. Every Custom Form created in the Document management software is linked with the QMS Document. Users with access to these documents automatically get the access to linked forms.
To learn more about Access Control in detail, visit: https://www.flnkiso.com/manual/user-access-controls.html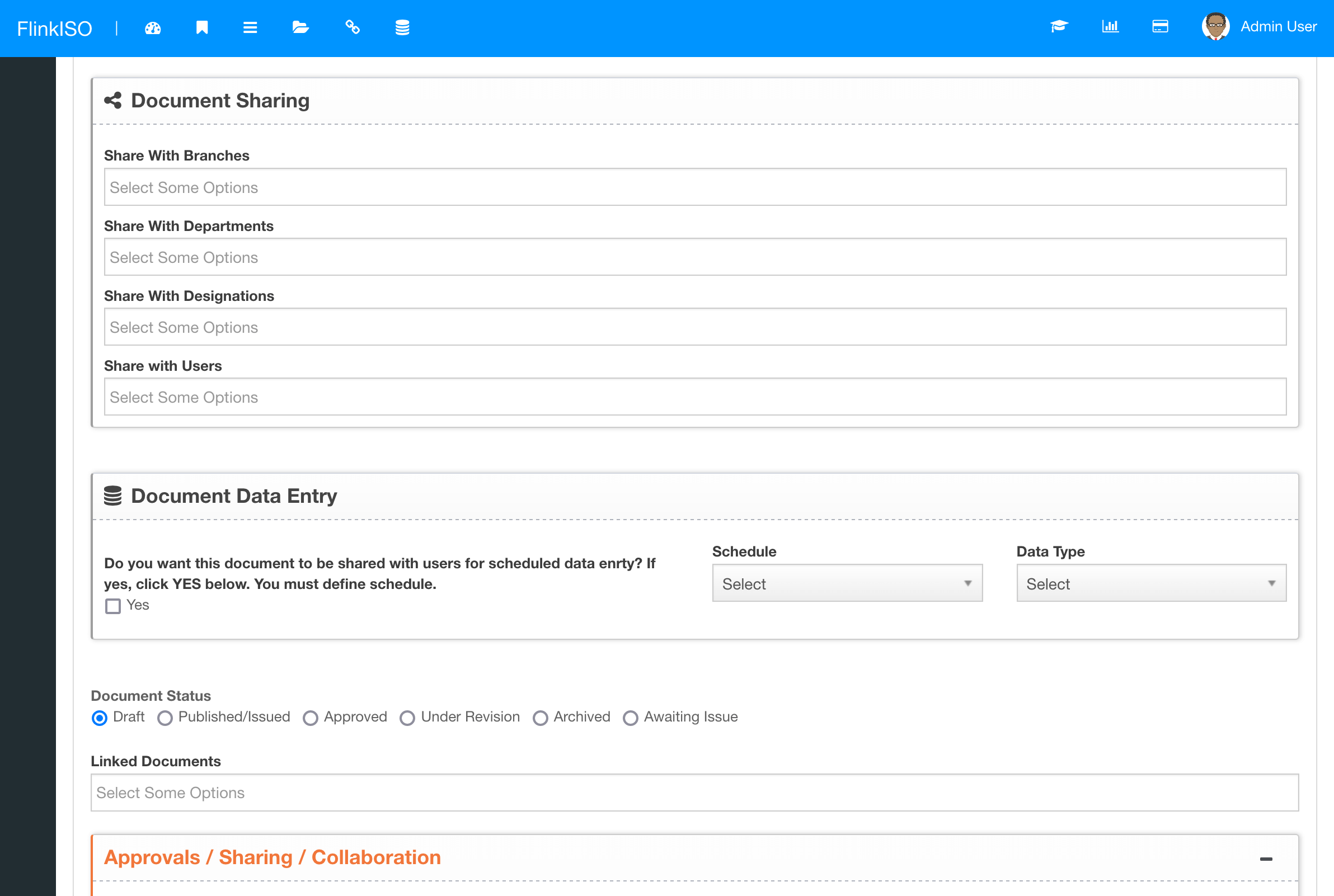 Adding Child/ Linked Documents
For each document you create in FlinkISO Document management software, you can add multiple child/ linked documents. These documents will by default inherit access from the parent document. You can add as many linked documents under the parent document. You can also create Custom Forms for these documents. Custom Forms created under child/ linked documents will get connected to custom forms created for the parent document. You can also define at which stage data for these Child Custom Forms is to be added while adding data for the parent Custom Form.

Linked documents are displayed under the parent document on the index page.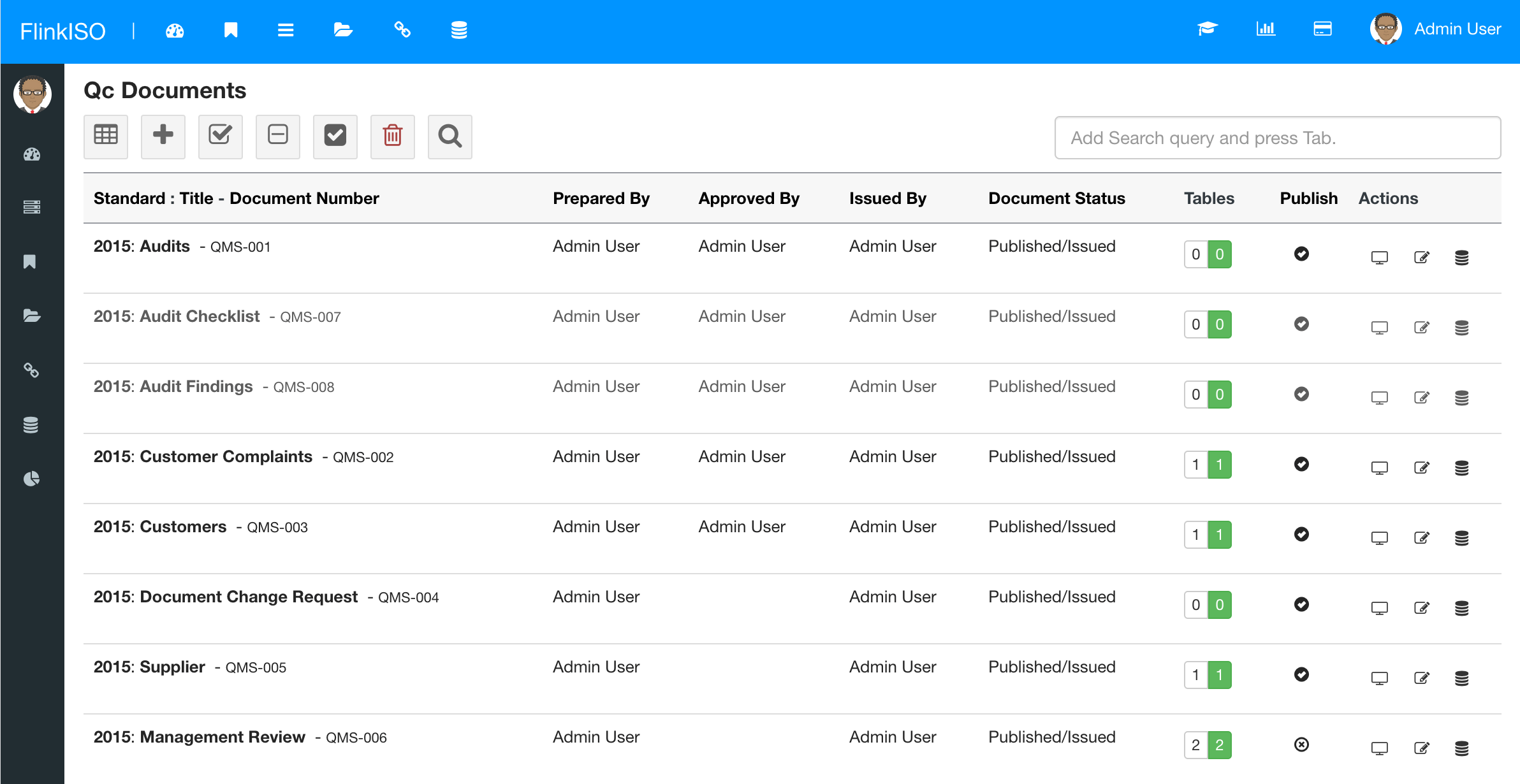 View/ PDF Download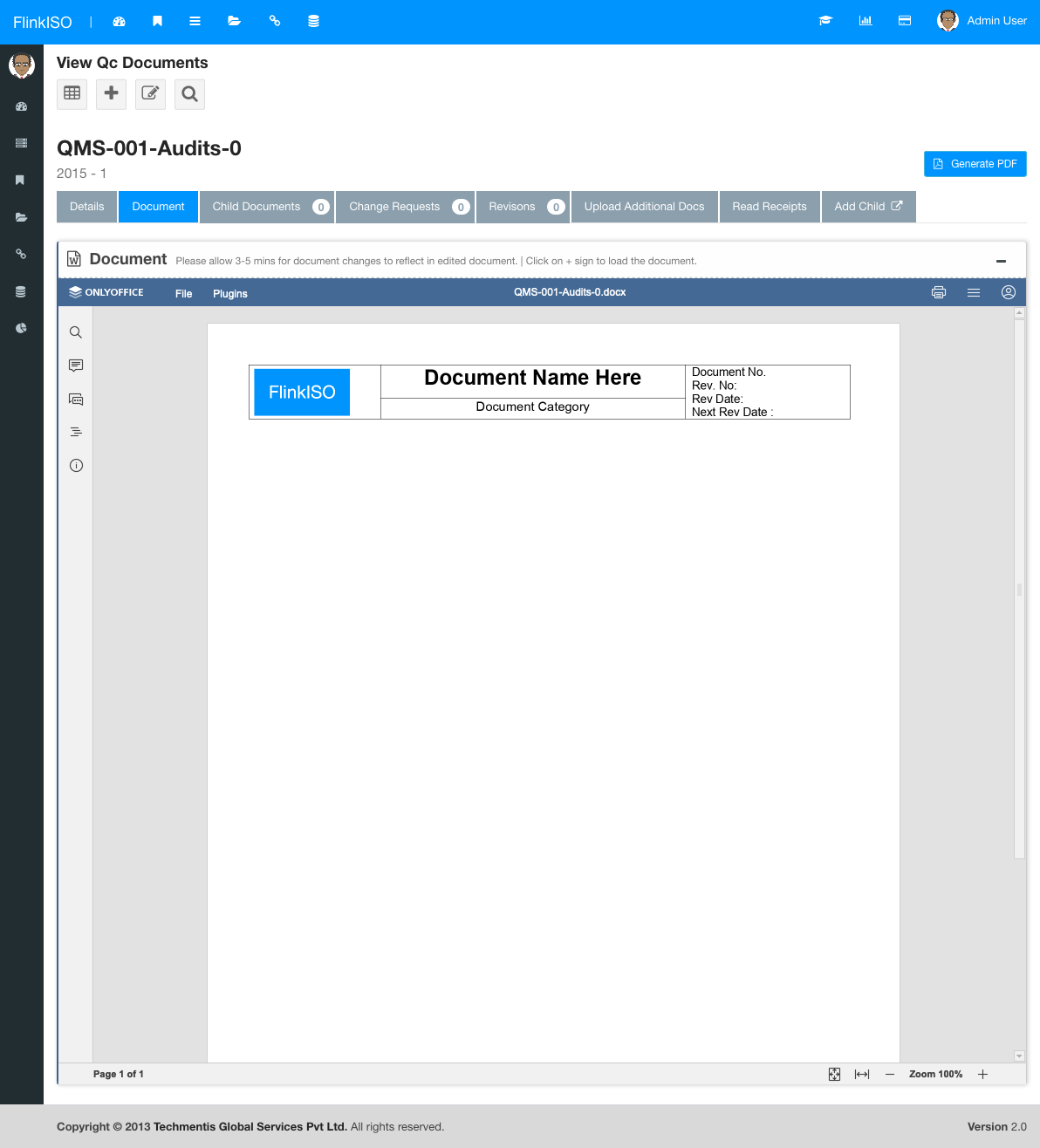 Document Advance Search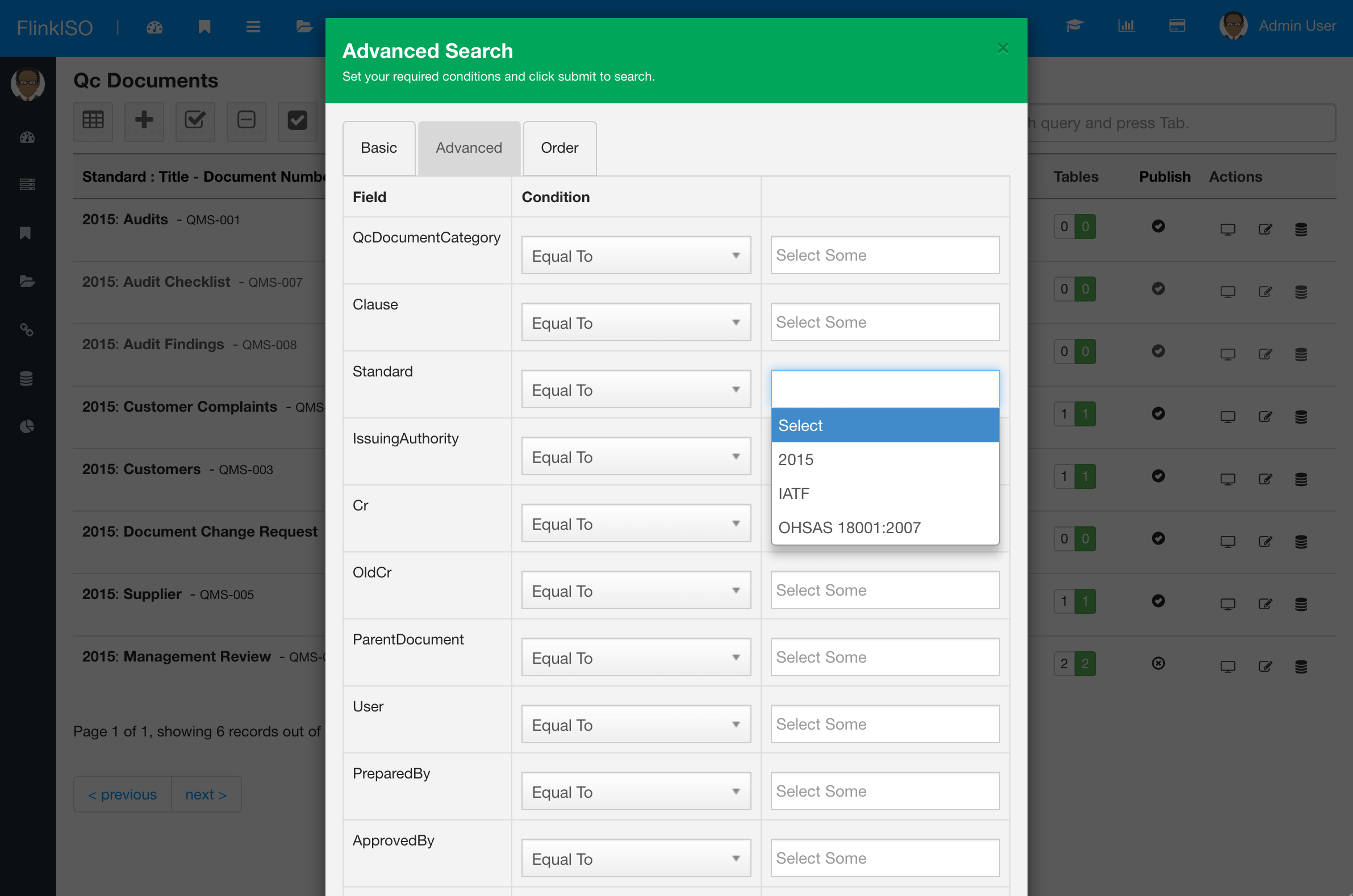 Search documents by name, number, preparer, approver, issuer, standards, clauess, dates, revision number etc.